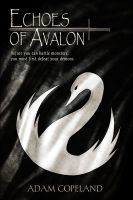 This is a tale of epic proportions.
The reader learns to first fear then love the characters involved.
I loved the setting and how Copeland made it all so very real.
I found myself in the castle with the hero and carried along with him as he explored the beautifully described countryside and its people.
The story itself is a page turner.
There was a place towards the end where I had to get up and turn on the lights because I wanted to make sure that Patrick's demon didn't find me, too!
I loved that fear.
It made the book so much more real for me.
But the irony in the book was not lost on me.
I found the demons that Patrick fought to be the same ones that we deal with in everyday, modern day life.
This book was so beautifully written from character descriptions through story line and scenery.
Not for a while have I been able to immerse myself so fully into a book.
This is going to the top of my must read pile.